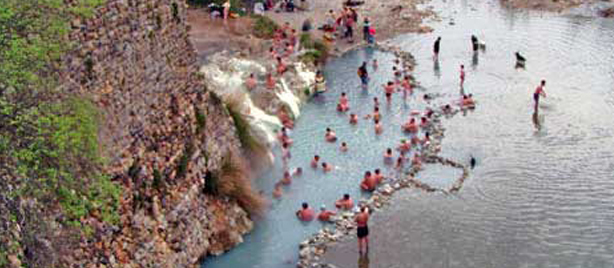 Petriolo Thermal Baths
The therapeutic properties of the hot springs of Petriolo Thermal Baths were known in the past: Petriolo was attended by many nobles (for example famous Medici and Gonzaga families).
The water is salt-sulfate-bicarbonate-alkaline-sulphurous hyperthermal (43 ° C) and contains a very high rate of sulfur and carbon. It is used for baths, mud, inhalations, facial masks very effective in treating skin diseases, respiratory problems, orthopedic and arthrorheumatism.


The sulphurous water gushes from the springs and falls in the river Farma with a series of waterfalls and pools carved into the rocks where you can swim. Access is free.
The particularity of Petriolo is that in the same place you have two completely different situations: at one side the hot waters of the thermal spring and on the other the cold waters of the river Farma. So Petriolo is very indicated fot those who suffer circulatory disorders.
The place is enchanting both in summer and winter, but it could be very crowded especially on Saturday night.


Petriolo Thermal Baths is near the town of Monticiano, in the province of Siena, situated on the road that connects Siena to Grosseto. The enviroment is natural and enchanting – there's a forest made of oaks, holms and strawberry trees.
Its origins is ancient, dating back to 1230. You can still admire Roman tombs and the ancient medieval bath, made of 4 rooms. On the top of the nowadays bath there's a Romanesque church and a small bell tower (1276).


Petriolo Thermal baths is the only remaining fortified bath (dated 1404), in fact you can still see the walls.